The Draped Bust Dollar was struck from 1798 to 1804 with two different reverse designs. The first coins featuring a small eagle on the reverse were dated 1795 to 1798. The second design featuring a heraldic eagle were struck from 1798 to 1804. For the last year of regular production, coins were dated 1802 or 1803. The famous 1804 Draped Bust Dollar would be struck in 1834 or later.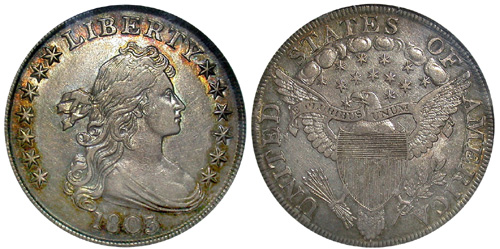 The lowest mintage for the series occurs with the 1797 Draped Bust Dollar at just 7,776 pieces believed to have been produced for circulation. Despite this low figure, the coin can actually be found at approximately the same price level as other silver dollars of this subtype.
In general, all issues of the Draped Bust Dollars series are scarce in circulated grades and become rare to extremely rare in uncirculated condition. Select varieties of the series can sell for considerable premiums, although collecting these silver dollars by die variety is not as popular as with the smaller, more affordable half dollars.
Draped Bust Silver Dollar Mintages